Smita Thakrar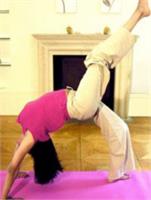 Smita Thakrar instructs the following:
We have been running these popular and successful yoga classes since 2010, receiving great feedback from students

Yoga is one of the best forms of exercise during pregnancy, a gentle, safe means of keeping toned and supple without strain, of keeping aches and pains at bay and energy flowing, of relaxing mind and body, and preparing for the physical demands of childbirth – and motherhood itself. Many of the skills and techniques you will learn in these classes will also become valuable remedies in the post natal period. Classic postures, rhythmical sequences and movements, integrating the flow of the breath at all times have been carefully adapted to the needs of pregnant women.

Class is suitable for ladies from 13/14 weeks all the up to the end of your pregnancy




Dynamic/Flow Yoga is a creative form of Hatha yoga. Using a flowing sequence of postures with breath control, these classes are not only meditative but also physically challenging. The session also encorporates detox breathing exercises and relaxation.

As you progress in your practice, you will develop physical strength and emotional strength that will help you handle the challenges of life with a balanced disposition.




Baby Yoga is a fantastic way to support your baby's development by improving muscle strength and tone, co ordination, and balance. It is also a wonderful way to bond with your baby and have fun together. It encourages instinctive parenting and promotes many well- used techniques for calming, soothing and reassuring baby, as well as sleeping better.

Baby Yoga sessions use fun rhymes and songs to help you learn the simple movements and to help relax baby. This course includes post-natal yoga and tummy tonning exercises for mummy!

Class is suitable for babies from 2 months to crawling.